UPDATED, July 5, 2022 – The Cox Automotive Industry Insights team had expected a year-over-year decline in June auto sales. The actual decline, however, was even greater than expected. Sales last month came in at approximately 1.125 million; the forecast was for 1.2 million. 
Some declines were particularly notable, with large year-over-year declines at Buick, Honda, Mazda, Nissan and others. The Honda drop was hard to ignore, with June sales being 54% lower than a year ago. The year-over-year decline last month was similar to Honda's year-over-year drop in April 2020, when the global COVID pandemic had shut down much of the U.S. market. Honda has simply run out of inventory. In June 2021, Honda had nearly 130,000 new vehicles for sale on dealer lots across the U.S., according to our vAuto team's estimates. Last month, the number was closer to 40,000, a drop of nearly 70%. Another significant decrease was Buick, down by more than 45% compared to June 2021. Mazda was off more than 50%. Nissan fell 40% year over year.
As Cox Automotive Senior Economist Charlie Chesbrough continues to note, without a material change in inventory levels, new-vehicle sales in the U.S. will continue to underperform expectations. Yes, the combination of high new-vehicle prices and ongoing inflationary concerns are slowing the market, but new-vehicle sales are primarily being held in check by low inventories.  
Our team had expected some improvements in new-vehicle inventory by summer, but the gains have not materialized. We continue to operate in a seller's market, where good deals are hard to find. Inventory levels have improved in some corners of the market, mainly with the domestic nameplates: Dodge, Ram, Jeep, Ford and Chevrolet. But overall, inventory remains tight, particularly for small, fuel-efficient vehicles.
Cox Automotive last month lowered its full-year forecast for new-vehicle sales in the U.S. to 14.4 million units, down from 15.3 million. At current sales rates, new-vehicle sales volumes in 2022 will finish below the pandemic year of 2020, as inventory has become the industry's long-haul problem.
---
ATLANTA, June 28, 2022 – June U.S. new-vehicle sales are expected to show a market still constrained by a lack of supply and one that is virtually unchanged since January. According to the Cox Automotive June sales forecast released today, the seasonally adjusted annual rate (SAAR) of new-vehicle sales this month is expected to hit 13.8 million, up from last month's 12.7 million pace but well below last year's 15.5 million level. 
The sales volume in June is expected to finish near 1.2 million units, down 7.5% from last year's volume of 1.3 million sales. However, this is an increase of 7.5% from May's volume of nearly 1.1 million units. There is one more selling day this June than last year and the same number as last month. 
Tight inventory continues to negatively impact new-vehicle sales. Since June 2021, monthly sales volume has been stuck in a tight window, with little deviation, averaging 1.1 million units a month and peaking only at 1.3 million in June 2021. With no clear timeline for any notable recovery in new-vehicle inventory levels, Cox Automotive is lowering its full-year 2022 U.S. auto sales forecast to 14.4 million units, down from its current forecast of 15.3 million. The current forecast now is for new-vehicle sales volumes to fall below the 14.6 million sold in 2020 when the market was initially ravaged by the global COVID pandemic.  
"Last June, I wrote that the concern about the supply situation could not be overstated, as we were in untested territory for the market," said Charlie Chesbrough, senior economist, Cox Automotive. "That sentiment remains, as there has been no significant shift in the conditions on the ground since last fall. Even though economic conditions have worsened in the past months, the lack of supply is still the greatest headwind facing the auto industry today."  
June 2022 SALES FORECAST HIGHLIGHTS
In June, light vehicle sales are forecast to reach 1.2 million units, down 7.5% from June 2021. Sales volume in June is expected to rise by nearly 181,000 compared to May, or 7.5%.
The SAAR in June 2022 is expected to be 13.8 million, below last year's 15.5 million level and up from May's 12.7 million pace.
Second-quarter 2022 sales are forecast to fall 19.3% compared to Q2 2021
First-half sales are forecast to be down 17.3% from the same period in 2021.
General Motors is forecast to outsell Toyota in Q2, jumping back into the top-seller position.
Tesla is the only major brand to increase sales year over year in the first half. Honda, Nissan and VW all see first-half sales drops in excess of 30% year over year.
June 2022 SALES FORECAST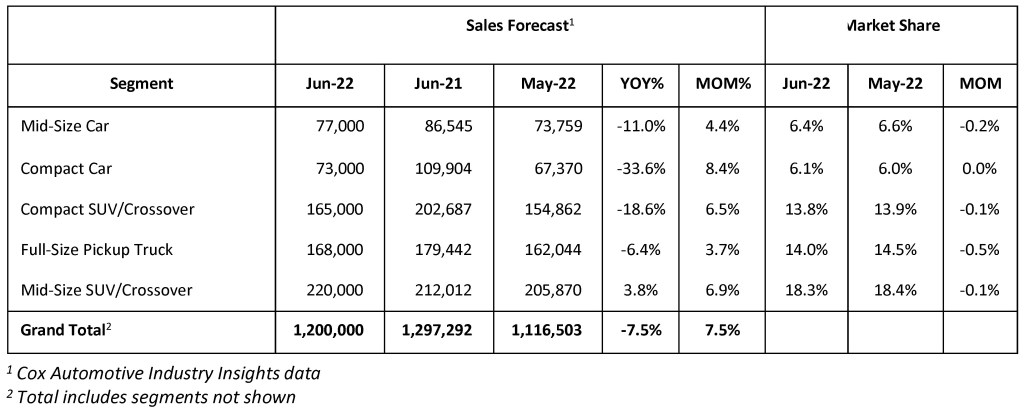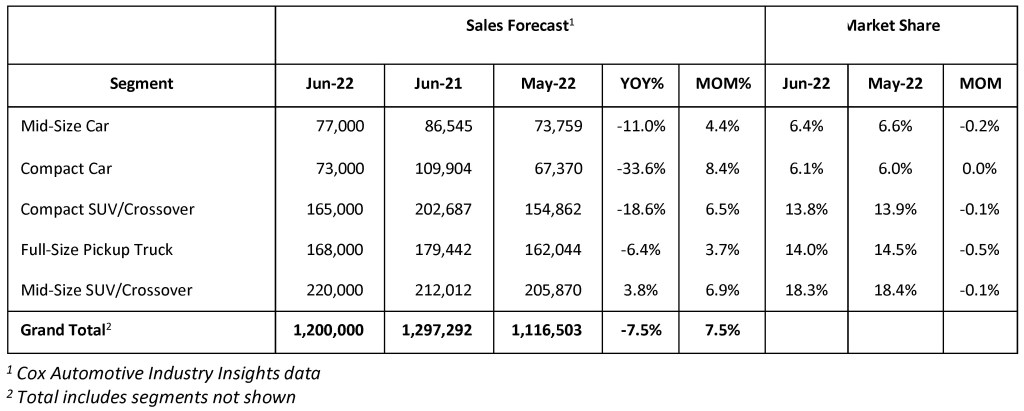 Q2 2022 SALES FORECAST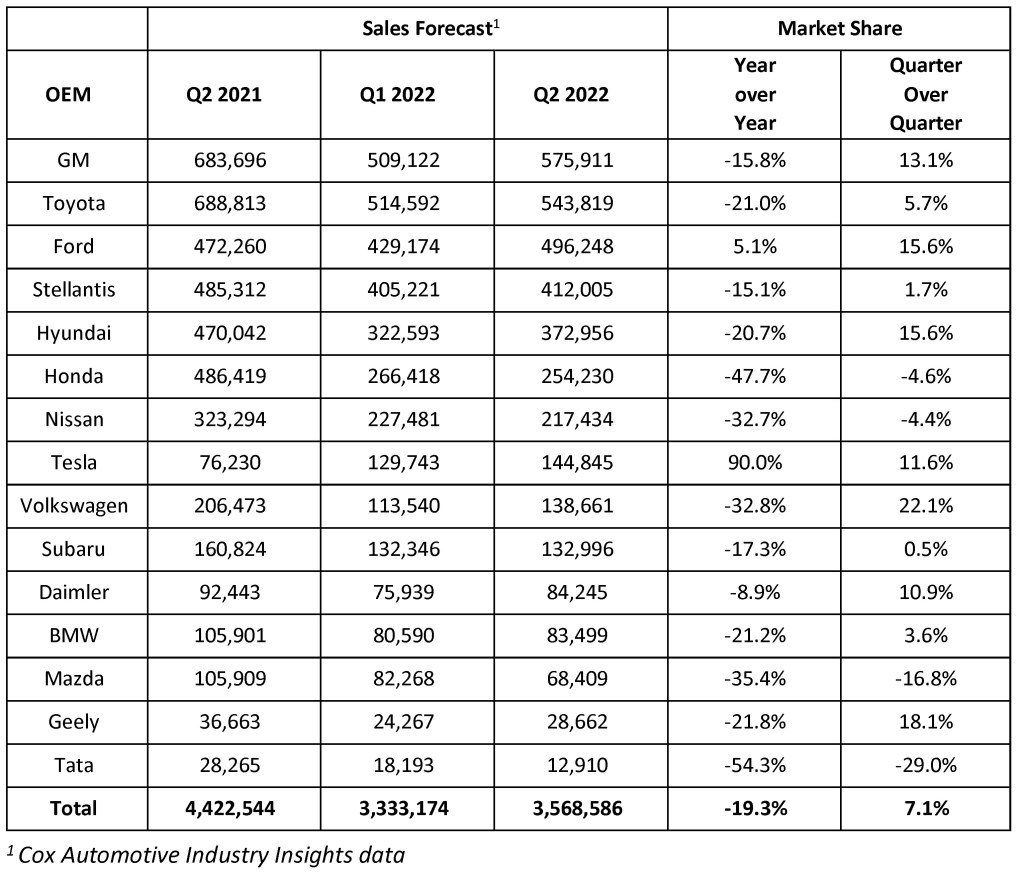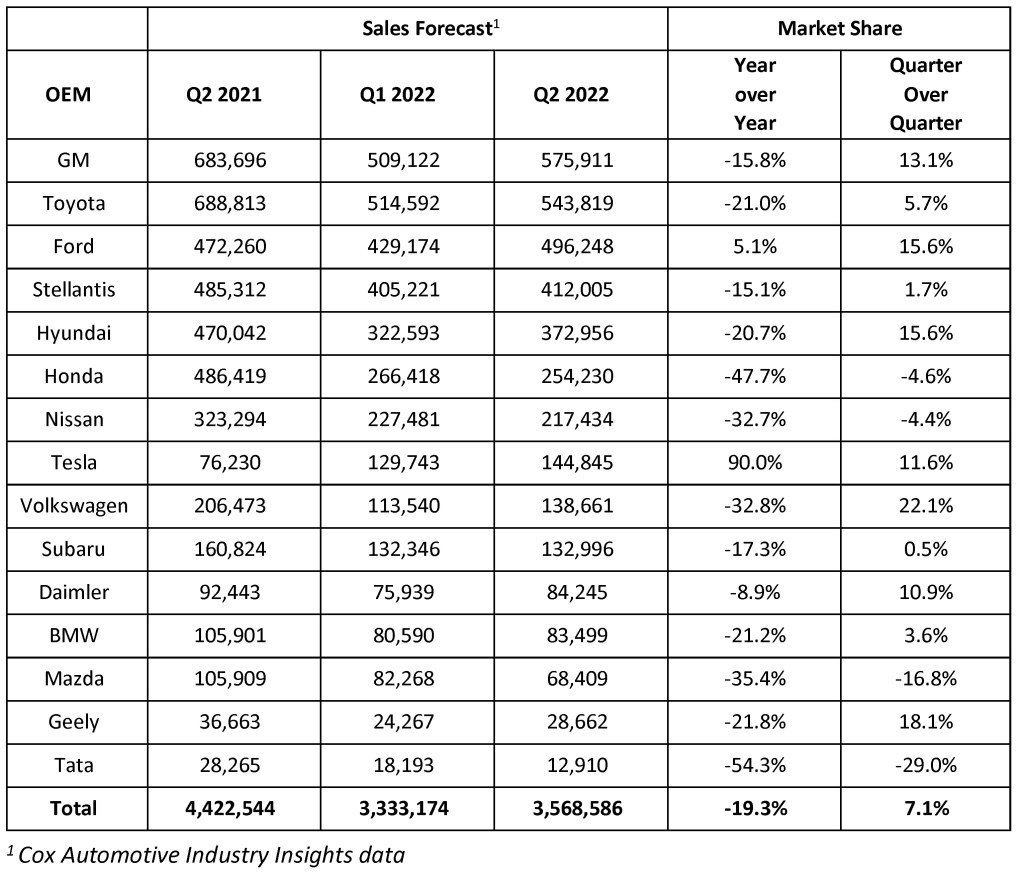 FIRST-HALF 2022 SALES FORECAST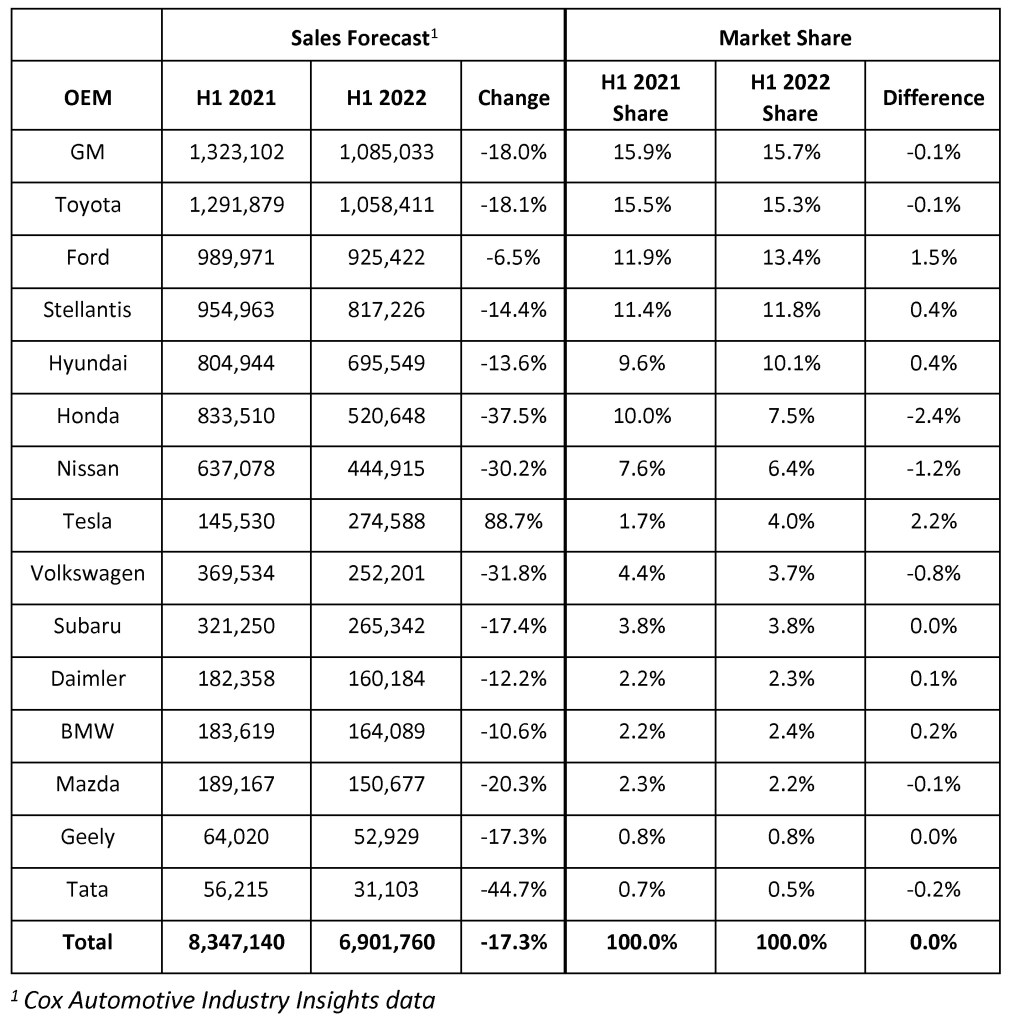 All percentages are based on raw volume, not daily selling rate.
About Cox Automotive
Cox Automotive Inc. makes buying, selling, owning and using vehicles easier for everyone. The global company's more than 27,000 team members and family of brands, including Autotrader®, Dealer.com®, Dealertrack®, Kelley Blue Book®, Manheim®, NextGear Capital®, VinSolutions®, vAuto® and Xtime®, are passionate about helping millions of car shoppers, 40,000 auto dealer clients across five continents and many others throughout the automotive industry thrive for generations to come. Cox Automotive is a subsidiary of Cox Enterprises Inc., a privately-owned, Atlanta-based company with annual revenues of nearly $20 billion. www.coxautoinc.com
Media Contacts:
Mark Schirmer
734 883 6346
[email protected]
Dara Hailes
470 658 0656
[email protected]
link