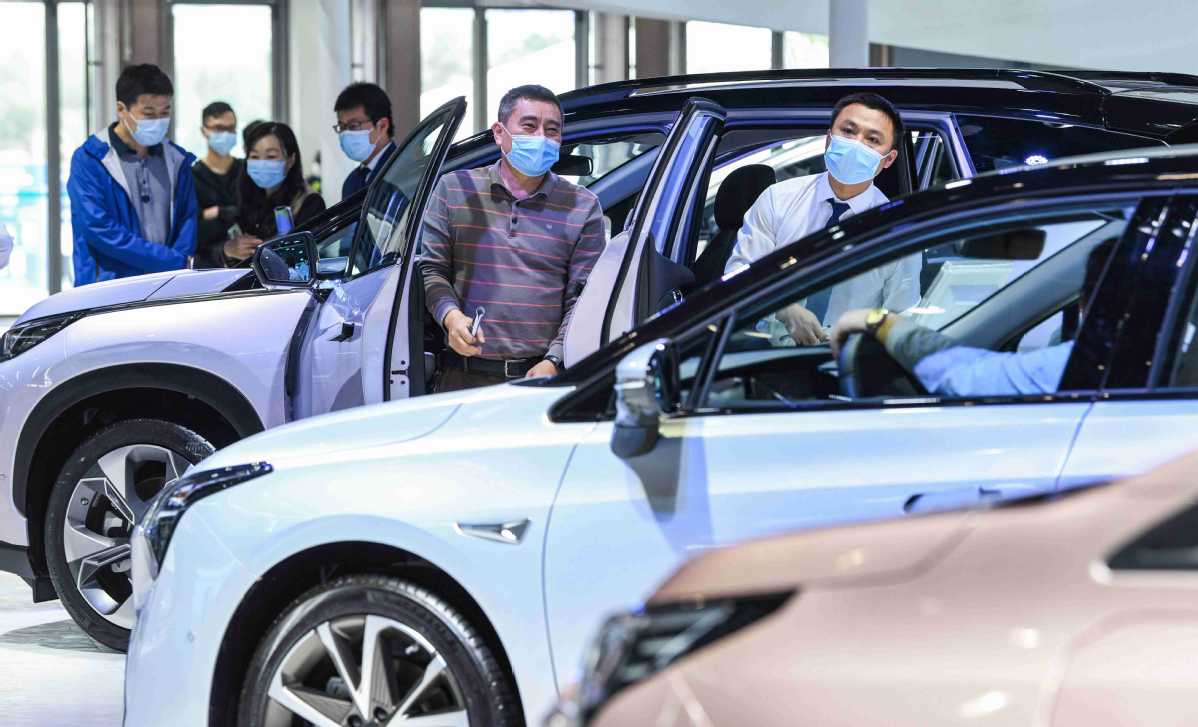 State authorities slash purchase tax for some models as manufacturers pile on bonuses
China's finance and taxation authorities announced last week to halve the purchase tax of eligible vehicles, which has in turn spurred many automakers to increase their incentives in a bid to attract customers. As a result, 2 million more vehicles are expected to be sold this year than the previous estimate, an expert said.
On Tuesday, the Ministry of Finance and the State Taxation Administration issued a notice on reducing the purchase tax of some passenger vehicles. The aim is to promote automobile consumption and support development of the automobile industry.
According to the notice, the vehicle purchase tax is halved for passenger cars with an engine displacement within 2 liters that are purchased between June 1 and Dec 31 and whose single vehicle price, excluding value-added tax, does not exceed 300,000 yuan ($45,000).
Taking a 2-liter vehicle priced at 300,000 yuan as an example, after halving the purchase tax, a customer can save about 13,000 yuan. If the purchase tax is halved for a 200,000 yuan vehicle, 8,850 yuan is saved.
The notice also specified the term "passenger cars"-a vehicle designed to carry passengers and their baggage with a maximum of nine seats, including the driver's.
Differing from earlier preferential policies on vehicle purchase tax covering new energy vehicles and passenger cars with an engine displacement within 1.6 liters, the latest move is considered a great incentive by insiders.
"Through the implementation of many new policies, such as purchase tax incentives, and through the efforts of (the following) seven months of promotion, the annual domestic retail sales will reach 21 million units in 2022, which is expected to increase by about 2 million units compared to that without policies," said Cui Dongshu, secretary-general of the China Passenger Car Association.
Due to COVID-19 outbreaks, the CPCA estimated in mid-May that auto retail sales would stand at 19 million this year, down 5 percent year-on-year.
After the notice was released, an array of auto companies quickly responded and increased preferential policies on purchase tax reduction. They include Changan, Dongfeng, Chery and Volvo.
Changan announced that many of its best-selling models such as the CS SUV, Eado sedan and UNI SUV can enjoy the national policies.
On that basis, Changan launched a "duty-free car purchase festival".From June 1 to July 30, customers who buy models of the Eado Plus, CS75 and UNI series will enjoy a purchase tax subsidy of up to 120 percent. At the same time, customers can receive a purchase tax reduction voucher of up to 10,000 yuan and participate in lotteries to get a car shopping voucher worth up to 6,000 yuan.
Chery's Jetour said that the purchase tax of all its models will be exempt, and another 5,000 yuan of subsidies will be granted for vehicles sold in the countryside.
Dongfeng Nissan announced that all its models will be exempt from purchase tax and will receive full insurance for a limited time.
Volvo said that many of its models will enjoy the 50 percent purchase tax subsidy and some other preferential policies. As for its popular model, the XC90 SUV, lifelong free maintenance will be offered.
link