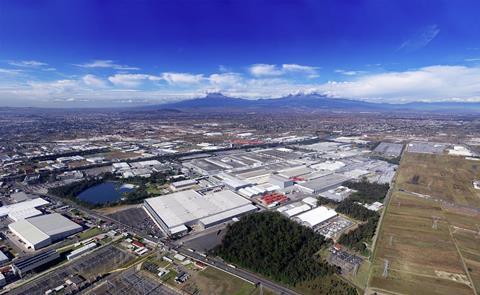 Just over 278,500 vehicles were manufactured in October this year, an +8% increase on the same month last year. Almost 268,000 vehicles were exported, an increase of +19.3% on October 2021. Mexico also increased internal sales in the month by almost +19% to more than 19,100 vehicles. GM, Nissan and VW were the top selling carmakers. 
Figures from Mexico's National Institute of Statistics and Geography (Inegi) show that between January and October this year Mexico made 2.78m vehicles, up +9.8% on the same period in 2021. Of that figure, 2.4m were exported (+6.8%) and domestic sales accounted for around 869,600 (+4.2%). 
"The auto industry continues to face supply chain constraints, albeit with some improvement in recent months," said Amia in a statement. "The low comparison base for last year also explains the improvement in the figures for October this year." 
The association also said that rising interest rates and inflation had put a damper on consumer demand for new vehicles. However, the market is expected to grow by 17.6% up to 2029 according to figures from analyst AutoForecast Solutions, something bolstered by an increase in manufacturing wages for workers in Mexico as a product of the US-Mexico-Canada (USMCA) trade agreement. That agreement stipulates that that between 40-45% of automotive content be made by workers earning at least $16 per hour. Mexico has agreed to pass these new labour laws to give greater protection to workers, more than doubling the previous average assembly wage in the country. 
"When you have a worker that can buy the product they are building that is a big deal for a jurisdiction," said Joe McCabe, president & CEO at AutoForecast Solutions, at this year's Automotive Logistics and Supply Chain Global conference. 
LEARN MORE ABOUT THE LATEST TRENDS AFFECTING MEXICO'S AUTOMOTIVE INDUSTRY AT this WEEK'S AUTOMOTIVE LOGISTICS AND SUPPLY CHAIN MEXICO CONFERENCE, HELD BETWEEN NOVEMBER 15-17 IN MEXICO CITY
Investing in Mexico
Carmakers are once again investing in production in Mexico for both domestic and international sales. VW has recently announced it will invest $763.5m in the modernisation of its Puebla plant to make a new midsize SUV by the end of 2024 and begin production of electric vehicles (EVs) in 2025. 
That follows last year's announcement by GM that it was investing more than $1 billion in EV production at its Ramos Arizpe facility. 
Nissan is also investing more than $700m over the next three years to improve facilities, equipment and processes at its Aguascalientes plant. 
"Mexico plays an important role in Nissan's global operations, both as one of the main markets for vehicle sales, and as an export hub for dozens of markets around the world," said Jeremie Papin, chairperson of Nissan Americas, when the announcement was made in May this year. 
As reported last week, BMW is also expanding production and strengthening logistics at its plant San Luis Potosi
Those carmakers stand to benefit from a new rail-linked vehicle distribution centre (VDC) in the central Bajío region, home to biggest concentration of vehicle manufacturing in the country. 
Following semiconductor and wiring harness shortages, that have affected carmakers globally, Mexico is well positioned to claim a larger stake of North American automotive supply. Reliable production and exports will be key to it claiming a larger stake in trade with its partners to the north.  
link